I got a letter today from Samaritan Counseling.
David Olsen sent me a letter. It happens to be dated on the day I emailed asking for the address of the Federal Department of Health and Human Services (8-20-15) (click here to file complaint through a simple form). I learned about the Department of Health and Human Services through Samaritan Counseling Center's PDF on Privacy Practices. I was concerned about HIPAA violations after reading here that 'Legal: ​Any email exchange between you and your therapist become a part of your Legal Clinical Record.'
This was after a full month of him and his staff not responding to my e-mails about their seemingly incomplete second copy of records.
The letter explained that my complaints are not "technically" a part of my medical record, and if I'd like copies of those, I could get them for .75 cents per page.
His letter included a copy of:
– the letter I received from my therapist in Spring of 2014 referring me to 12-step meetings, a day after I called and asked her NOT to refer me to 12-step meetings.
– his and Jenness Clairmont's termination letter referring me to a 12-step interventionist and forbidding me to have any contact with anyone at Samaritan Counseling Center directly after receiving my complaint about 12-step coercion and a strong request to discuss the matter
He said "that demonstrates our ongoing attempt to respond to your questions and concerns".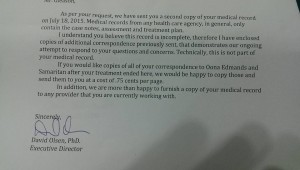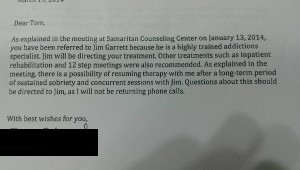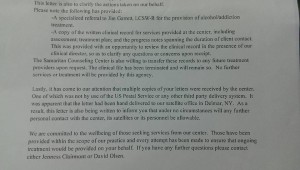 A better response:
would have been "I received Silver Damsen's letter (below), and it's interesting that you have 100+ signatures on a petition asking health workers to take a look at systemic problems with Alcoholics Anonymous. Let's have a discussion about this."